ABOUT US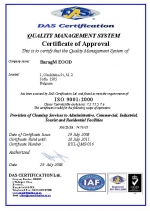 "Barrage" was founded in 1990 and more than a decade proves to be one of the best cleaning companies in Bulgaria, keeping contacts with world famous firms. Qualified workers, ready to observe Your requirements at every moment, perform the execution of the services with professional machines and ecological cleansers.
"Barrage M"– that means quality and cleanliness.
Our motto is: "Clean means pleasant".
These words always guide us and we do our best to provide You joy from life, seeing Your home or office shiny and clean.
When Your office is clean and tidy You feel like working with greater pleasure. When You get home after a tiring day and feel the fresh smell of cleanliness You feel completely satisfied and can put Your energy in the more important things in life. Devote Your free time to the people You love and let us take care of the boring cleaning, in which You have invested too much time till now.
Free Your mind, enjoy the moments of happiness and confide in us!